RPG Forums Online
<center>
</center>
After quite some hiatus
THE BLUE PLANET IS once again OPEN FOR BUSINESS
! I have decided to start a new OOC and IC thread. The events of V1 and V2 have happened but are now several years in the past.
In that time the bar has been closed for business while Rosa's attentions have been directed elsewhere. Now, however, she's back and the bar is accepting your credits once more!
This is a
completely open and casual RP setting
within which characters can develop and interact as they wish.
Character sheets are completely
voluntary
though you are more than welcome to post them here if you would like people to have a better idea of your character's appearance or personality. If you don't post one, please try to be descriptive about your character's appearance in your post.
The idea is to give folks a casual RP setting to involve themselves in perhaps while waiting for someone to post in an RP or maybe just to give a certain character a test run.
Think of it as a Sci-Fi version of the SB back when RP in there was frequent and fun.
Please read the rules and description of the bar before posting. Otherwise, enjoy!
The IC can be found
here
.
<hr>
The Rules
I will be playing as the owner of the bar and will occasionally use a couple of named bar staff (see below).

However

, please feel free to utilize NPC staff as you see fit!
Please ensure you read the entirety of this post before posting in the IC. If it's obvious you haven't you'll receive a PM asking you to do so.
Though this is a casual RP setting as opposed to a plot driven RP I would like to ask that posts of just a few lines are avoided.
Usual RP rules apply - no godmodding etc.
This is an open Sci-Fi universe, please create a character that fits accordingly. There will be no character restrictions in regards to race etc. so long as they fit within a Sci-Fi setting.
Character sheets would be lovely but aren't compulsory. If you would like to post a character sheet please do so in this thread.
Please note that because of the nature of the RP, if posters become inactive, "the bar" characters will not wait on a response for too long. If you do disappear, an action will be assumed (such as them ordering/receiving a drink) and they will become "background noise" until you return.
If you would like your character to be a 'regular' and already have links to Rosa, Amy or Cara or if you'd like your character to potentially be a member of staff please let me know in the OOC and we can continue accordingly.
<hr>
The Establishment
The Blue Planet can be found aboard a space station that occupies the space in the universe previously home to Planet Earth. Following the destruction of the Earth (by it's own people), opportunist Rosa Flame (an alias) decided to cash in on tourism by setting up an Earth-themed bar. Though highly futuristic in appearance and operation, the bar contains all manner of highly prized earth artifacts most of which, it is said, are rumoured to have been swindled from all manner of museums the cosmos over.
Despite it's museum-esque properties the bar is the height of modernity and has teleporters allowing visitors to come and go from nearby planets, holographic dancers and is manned by all manner of attractive female androids.
There is, obviously:
A bar with floating bar stools.
Booths
A dance floor though the loud music cannot be heard outside of the dance floor itself.
Robotic Resident DJ.
Various Sci-Fi-esque bar games - use your imagination.
Screens showing old Earth movies and shows.
Screens showing sports, current affairs etc.
Docking for ships of all shapes and sizes.
Repair/Recharge points for ships/cybernetics etc.
Drinks and snacks to suit all races - named after Earth food and drink though not necessarily the same.
Huge range of Earth artefacts
The Staff
The Owner - Rosa Flame
[spoiler]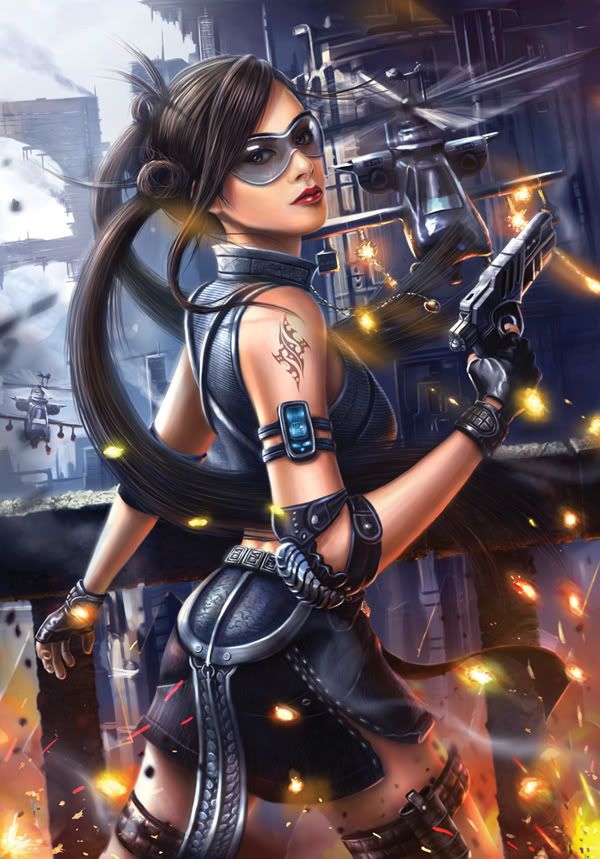 [/spoiler]
Age:
Unknown
Race:
Human/Cyborg
Personality:
Rosa is known as being something of a bad ass and not a woman to be messed with. She's viewed as a shameless opportunist and, in truth, history does suggest a willingness to do just about anything to put herself ahead. Over the past few years, however, she has noticeably softened and gained many friends among the patrons of The Blue Planet. Despite her many flaws she is known to have a wicked and very sarcastic sense of humour and is liked by those close to her. Because of her choice of lifestyle and her various pursuits and exploits she is frequently away on what she refers to as "business".
The Bar Staff
C4R4 V.110.2.4 - Otherwise known as Cara.
[spoiler]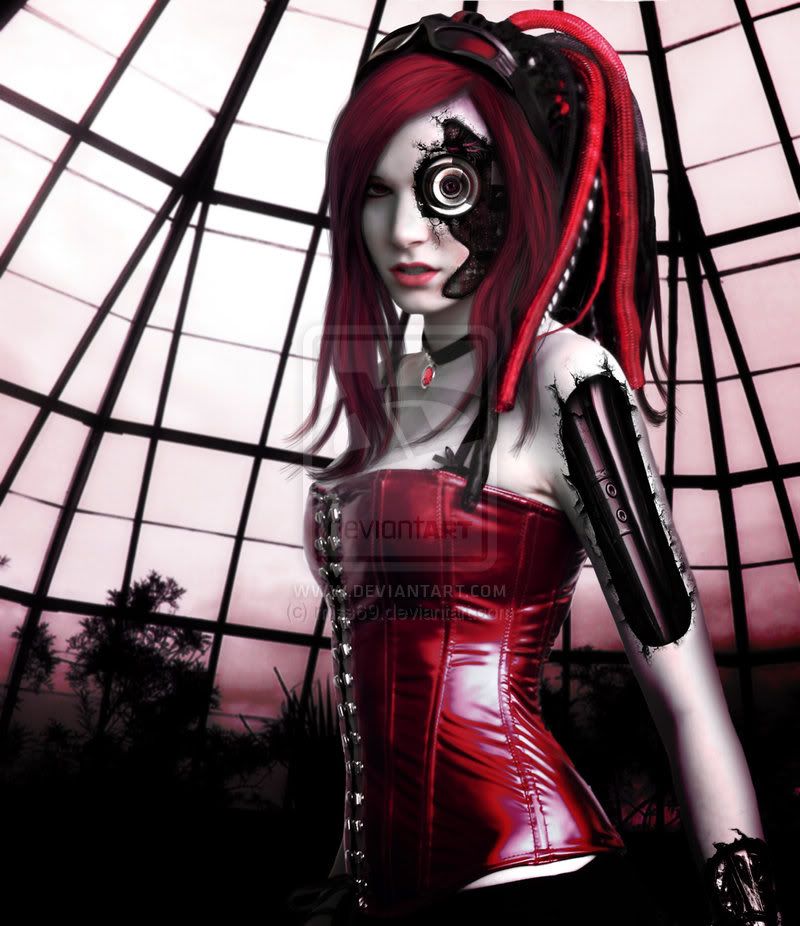 [/spoiler]
A3M4Y V.4.01 - Amy
[spoiler]
[/spoiler]
Possibly more to come.
Bouncers
Big ass, heavily armed robots not to be messed with.
Last edited by
Sammy
on Fri Oct 24, 2014 12:48 am, edited 1 time in total.
<center>

Fancy a drink? Drop by
The Blue Planet
- we're always open!
Reserved for any customer character sheets.
Moderator

Posts: 2845
Joined: Thu Mar 24, 2011 9:54 pm
Location: England
Contact:
Naturally I'm so in
[spoiler]
[/spoiler]
Name:
SENTINEL X1.35 (
Nickname: Xen
)
Race:
Cyborg
Occupation:
Military Bounty Hunter
Background:
X1.35 is part of a Military experiment. While looking like it is completely cybernetic, it is actually part of a human integration and a face does exist behind the battered mask. The host for this machinery was selected for the means of giving them a 'second chance' as private records and files show extensive damage to their original body- and them being in a drug enduced coma.
The original modifications were of the latest technology - as usual, military budgets allow for expensive upgrades. But X1.35 is still in the experimental stages- working as a Bounty Hunter is all for the purpose of homing skills and getting used to being in a new, and constantly upgrading, body. Purely designed to be an agile weapon, there is a hidden array of destructive artillery built within the cybernetic suit.
However, Xen has never been content with the body it has been given, determined more and more to restore to a more human appearance, not only for its own comfort but to put people it considers as friends more at ease themselves. Craving more than just a smile an a pat on the shoulder that it can't feel, Xen has searched for someone to be able to rebuild the body it once had, ruined by a black book bounty.
Personality:
Some will be suprised to find a relatively normal persona with this cyborg. X1.35 has a great sense of humor, is always polite and when the mask comes off (which is rarely) you may even catch a smile which has been lost for years. After all, a human brain runs this cyborg and there's a constant need for social interaction and to not feel like a total outcast.
What better place to wind down than a 24 hr bar?
Name:
Rossi Lioncourt
Race:
Human
Age:
??
Occupation:
Miner and Stardust collector
Appearance:
Out of space gear
[spoiler]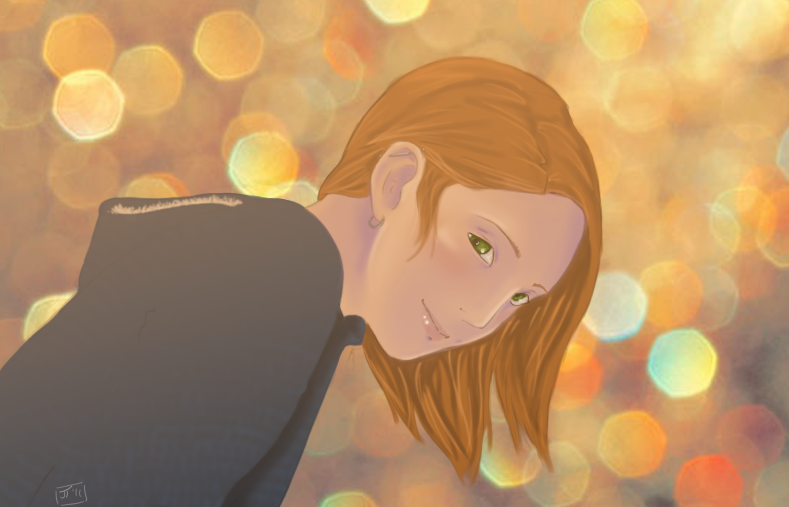 [/spoiler]
In space gear
[spoiler]
[/spoiler]
Background:
Rossi is probably one of the few humans left that wants to stay as human as possible. The only mods she has are the inevitable medical reinforcements that come along with the dangers of mining in deep space. Well... stardust collection is what recalled for new hands- the skin has been toughened along with the bones but they look, feel and react like the real thing. There's a mystery behind her age too- something has been keeping her alive for longer than the average human and if anyone can figure it out, she'd be happy to know. But for now she passes it off as a healthy diet and walking on the wild side, which she strives to live by as she's had her fair share of deadly diseases and was even out for the count when they found a brain tumour. Luckily, this day and age has seen the cure to most things and she's in the remission after her treatment.
She travels everywhere in her <a href="http://img1.wikia.nocookie.net/__cb20110809043947/halo/images/5/5f/SPIRIT_OF_FIRE_01.jpg">pride and joy</a>, it's one of the biggest of it's kind and definately the most well armed. As an efficient miner of all ores, mineral and other goods- she takes no risks when it comes to protecting her cargo. Especially seeming as when she's having to collect things, she's a sitting duck until it done. Then ofcourse she's out of there before you can say warp speed 10. But really we all know it's sublight 6.
It can be months at a time before she returns to the Blue Planet but she makes a point of doing so, if only to make sure Rosa hasn't got into any more trouble. As a friend, she loves Rosa and the girls dearly but know's she can't always be around to see if things are alright. She doesn't tell her about her mishaps and times spent under medical care, that's a worry that Rosa doesn't need. Besides, all time away can be hidden with the excuse of mining for precious ore's and working on her mysterious projects. She's trying her hardest to open up a little more, recently letting Rosa rebuild an ancient motorbike from scratch with her- a welcomed addition to a mad holiday she decided to whisk her away on.
Her latest endeavour, however, has been to rebuild Xen a body. It's been a tricky trip but she is in the final stages of tweaks and changes. It's been her little secret and, despite not knowing him all that well when she met him a couple of years back, she wants it to be a surprise for him (and all the other regulars). He may have been completely lost with the knowledge his body was stolen from cryostasis but once he see's the work- Rossi has a feeling that he will be impressed, if not still a little angry at first. But hopefully more of the positive than the negative.
Personality:
Rossi is an all round friendly character who seems a little old fashioned in her ways. Being Captain of her own frigate and manning it with a crew made solely of robots and cyborgs means she's always happy to return back to her grounding point, The Blue Planet. She has a robust personality that's seems to be able to withstand any harsh blow, letting sly comments fly over her head. Positive outcomes only. That's her motto.
<center>
Moderator of most things...
</center>
Moderator

Posts: 2845
Joined: Thu Mar 24, 2011 9:54 pm
Location: England
Contact:
Excellent, will work on a post and then I'll be done until the morning
<center>
Moderator of most things...
</center>
Moderator

Posts: 2845
Joined: Thu Mar 24, 2011 9:54 pm
Location: England
Contact:
Made the new bar a sticky topic so it's always in sight and will work on a few posts to get people wrangled in. I'd really like for this RP to kick up again
<center>
Moderator of most things...
</center>
I'm dropping a CS for this, as soon as things calm down here. Just sayin'
<center>
My DeviantArt
Xbox LIVE Gamertag:
The Burned Man
</center>
I'll have a post up tomorrow
Name:
Kozie Wingden (Nickname: Wing)
Race:
Alien
Occupation:
Ex-Warrior / Wanderer
Appearance:
[spoiler]
[/spoiler]
Background:
On Kozie's home planet, Razlle, the primary species are born from seeds given off by special trees. These trees bloom twice a year. On average, each tree produces only a hundred seeds each bloom. Only one of these seeds are capable of giving birth, the others help populate the land with more trees. The seed capable of birthing only gives birth about 1 percent of the time. Once fully matured, these creatures quit aging and continue to stay youthful and healthy as long as they can sleep with their backs to fertile soil, making them virtually immortal. This led to problems of planetary over population and bred war where one group would try to kill another in the name of population control.
Their planet had other minerals as well and eventually the species became technologically advanced. Wars got more and more brutal until they accomplished space travel. At that point, all war stopped because the solution to their problems had arrived.The new solution was simple. Once you reached a certain age, if you had not accomplished anything of planetary importance, you were given your own space ship and exiled. You were to pick a direction and the launch would send you off in your own space pod, never to be heard from again.
Being a low level warrior, Kozie had nothing of any worth to his name and was part of the first group of his people to be sent off. This group was sent off with no knowledge of where they might end up. Luckily he safely reached a fertile planet, before dying of old age in his pod. This planet was called Earth, and the species there, the humans, were just learning how to walk.
Being an ex-soldier, he was able to survive with ease. But not being a scientist, he was unable to escape the primitive planet. He had to wait, living his life hidden from the public eye for many centuries until the species evolved enough to accomplish space flight on their own. He waited till the humans started colonizing other planets before steeling a private ship of his own. With space charts of all the known planets at that time, Kozie took to the stars in search of adventure and entertainment to make his life worth living again.
He still remembers his home world and has a nagging urge to visit it once more.
Personality:
Incredibly intelligent, Kozie never forgets anything he learns. He is calm and collected at all times. He is so calm in fact, he may even seem sad at times. While he is not a violent creature, he does still have a warrior's spirit and enjoys learning new styles of martial arts.
I've been debating on bringing Laise back into this, as I found that character interesting.
<center>

Many thanks to Merxiel for the set.
You once said to me that the gods had sent me to save you. You were mistaken; you were the one sent and I in need of saving. - Gannicus


</center>
@Balthazar: Welcome aboard!
@Ant and Rossi: Would love to have you both.
---
Who is online
Users browsing this forum: No registered users and 0 guests