RPG Forums Online
Summer time is here. The sun is out (usually) and many people are on holiday. But what are you doing this summer time?
http://elitedangerousdiaries.com
Journeyman

Posts: 2449
Joined: Fri Jun 17, 2005 11:00 am
Location: In a very cold desert that no one wants to goto, unless they live here!
Contact:
Yup, I am here the majority of the time durring the day then I have to go to work.
"Frozen To The Core!"
-------------------------
The Artistic Assassin
I do a bit of everything, really. My summer part of the vacation was in the beginning of July, the rest of the summer I work and whenever I'm not working, I'm playing RPGs, read and enjoy the summer. You know, meeting a friend for a friday evening, sit down around the fire, grill some sausages and drink some... well, insert your preference there. It's great and very relaxing even though you sometimes go home smelling of smoke all over. But that's nothing a shower and a laundry machine can't fix!
I belong to the
Warlords Guild
I went to the beach in June, and then to New Hampshire (and the mountains) in early July... Since then I've only had band practices to keep any regularity to my schedule... Otherwise I sleep in really late, watch anime, listen to some audiobooks, read, cook/bake, stay up until some ungodly hour, lurk around here... And all of that fun stuff.
"Gott ist tot! Gott bleibt tot! Und wir haben ihn getoetet."
Apprentice

Posts: 15
Joined: Sun May 29, 2005 10:46 pm
Location: GA
i ALWAYS stay home
I go around fourms and i find my name from other people!!!!
Traveller

Posts: 124
Joined: Sun Dec 11, 2005 8:19 am
Location: The greatest place in the world, cause where ever i am is the greatest place in the world
I like a bit of variety
Reach for the Stars
Veteran

Posts: 5811
Joined: Fri Mar 30, 2007 8:04 pm
Location: On My Throne
Contact:
Badminton, Hockey, Swinging, Hockey, Trampoline, RPGing

If you are what you eat, I could be you by morning.
http://www.youtube.com/watch?v=UYT7tfvXl0I
Key:
Tyrant Cecelia
,
Q
,
Traveller

Posts: 131
Joined: Fri Mar 16, 2007 4:11 pm
Contact:
I do a bit of everything. I like to play sports, work for money, and i like to do what im allowed to do that my parents wouldn't mind me doing
Apprentice

Posts: 20
Joined: Sat Apr 21, 2007 9:22 pm
Location: Dudley
I'm doin random stuff as all ways lol...My lifes boring
Apprentice

Posts: 20
Joined: Thu May 17, 2007 7:30 pm
Location: Writing at my desk
You want the whole list? Alrighty....

June
-Going to TN with the dad to see some family.
-Going to 4-H camp to keep and eye on the campers. (Hopefully this year they won't steal my shoes!!!!!!!!!!!)

June/July
-Going to UVA for a writer's workshop on playwriting.

August
-Going with 4-H to do service work in the Dominican Republic.

September
-Entering the 3 Day Novel contest.

That's pretty much my summer in a nutshell.
Remember that you are unique just like everyone else.
i'm doing all a bit, earning cash to buy a new ram
Adept Adventurer

Posts: 757
Joined: Wed Oct 24, 2007 2:15 am
Location: Osaka, Japan.
Contact:
Summer....A time to sleep till noon and stay awake in the wee hours of the morning.
Me on the other hand....Has a summer job and has bills to pay at 16 years old. I also have summer school because I have to graduate early.
I decided to move out on my own.
It way harder than I thought it would be.
Mi corazón está siempre donde va ...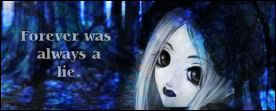 失恋と....ドリーミング
i was working................................................................................................................................................
---
Who is online
Users browsing this forum: No registered users and 0 guests