RPG Forums Online
The ideal one would be a balance of both, cause you get the best of both worlds... but I would want to be better at fighting melee than in magic. Magic does come in handy when you need to heal, though, so it is a necessary burden.
Adept Adventurer

Posts: 757
Joined: Wed Oct 24, 2007 2:15 am
Location: Osaka, Japan.
Contact:
If we on;y had malee power how would we attack flying foes.
But then again magic can't solve everything.
I think a bit of both works well.
Mi corazón está siempre donde va ...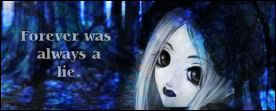 失恋と....ドリーミング
Adept Adventurer

Posts: 908
Joined: Sun Aug 19, 2007 3:22 am
Location: Somewhere within the confines of my own mind...
I would prefer melee with just a tad bit of magic.

All fighters need to heal sometimes, and
having a bit of magic to help you along
would be great.
<center>"Humanity can be made to believe any lie, either because they want to believe it is true, or because they are afraid it is true..."</center>
I'd say a bit of both. Strong magic is very important and gives you a big advantage over an enemy, however you need decent melee skills to actually finish them off.

I'd lean more towards magic than melee for those reasons.
I said Powerful Magic User with no melee skills. Magic is all I need.
Scout

Posts: 286
Joined: Tue Jan 29, 2008 5:14 am
Location: new mexico
Contact:
I would want a powerful warrior with a bunch of passive magic to make him even more physically powerful. so you know he would have super strength, resillency, agility, and a some kind of a ability that would make his opponents weaker.
And on the eighth day God created
Ireland
[Credit for picture goes to leonardo finocchi]
Citizen

Posts: 30
Joined: Sat Mar 08, 2008 2:54 am
Location: Texas, US
i like a character that is very strong in melee skills but yet some magical ability for a backup
melee!, i hate magic skills, if i could just use melee skils that would be perfect for me. i feel like the action is more real as a warrior without magic
Magic rules.
And as for the unavoidable physical situations.
When in doubt, teleport out.
I would choose to be a strong melee fighter with some magic skill. I think you need to be able to fight in close combat, but a few magical tricks up my sleeve would be really useful as well. What you can do with magic, you can probably get similar results with some effort, but magic does definitely help make things easier.
Citizen

Posts: 49
Joined: Wed Oct 27, 2010 12:12 pm
Location: Florida
uhh definatly magic with some melee i'd like to see someone accuratly swing there damn sword when they are on fire XD
I'd prefer alot of magic with minimal melee. Magic is just so much more useful against those damn trolls I keep running into on my morning commute.

And seriously, who needs to be able to kick ass like Jet Lee if you can magically fly or something. Theres that organization that'll give anyone who can prove a supernatural ability one million bucks... and seriously, nothing is cooler than someone who can create fire or ice out of nothing.
Citizen

Posts: 49
Joined: Wed Oct 27, 2010 12:12 pm
Location: Florida
true true and you want a frosted mug for your beer okay want some ice for your lemonade sure thing need to get the grill fire going easy need to blowup something cake sure you can do all those things with made objects but to do it without so convenient and i still hold my position of someone trying to fight on fire. it doesnt work.
---
Who is online
Users browsing this forum: No registered users and 0 guests